Feet in Ancient Time: On Being an English Writer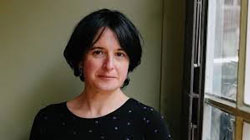 In this lecture, Award-winning novelist and literary scholar Professor Sarah Moss, will explore the personal, creative and national challenges around the idea of literary and poetic inheritance. She will also address important questions about her own writing identity in the face of the shifting nature of Englishness and Britishness in the Brexit era.
Sarah Moss grew up in the north of England. She has BA, M. St. and D.Phil degrees in English Literature from Oxford University, where she held a Research Fellowship before academic appointments at the universities of Kent, Exeter and Iceland. She is currently Professor of Creative Writing and Director of the Writing Programme at the University of Warwick. She was appointed FRSL this year.
Her first novel, Cold Earth, was published by Granta in 2009, followed by Night Waking, Bodies of Light (shortlisted for the Wellcome Prize), Signs for Lost Children (shortlisted for the Wellcome Prize), The Tidal Zone (shortlisted for the Wellcome Prize) and most recently Ghost Wall (longlisted for the Women's Prize and shortlisted for the RSL Ondaatje Prize among others). She wrote a memoir of a year in Iceland, Names for the Sea, published by Granta in 2012 and also shortlisted for the RSL Ondaatje Prize. Her next novel, Summerwater, will be published by Picador in Sept 2020. Her books are translated into many languages including Danish (Silkefyret).