Danish and German as European neighbour languages
An international conference on language contact in border zones and multilingual cities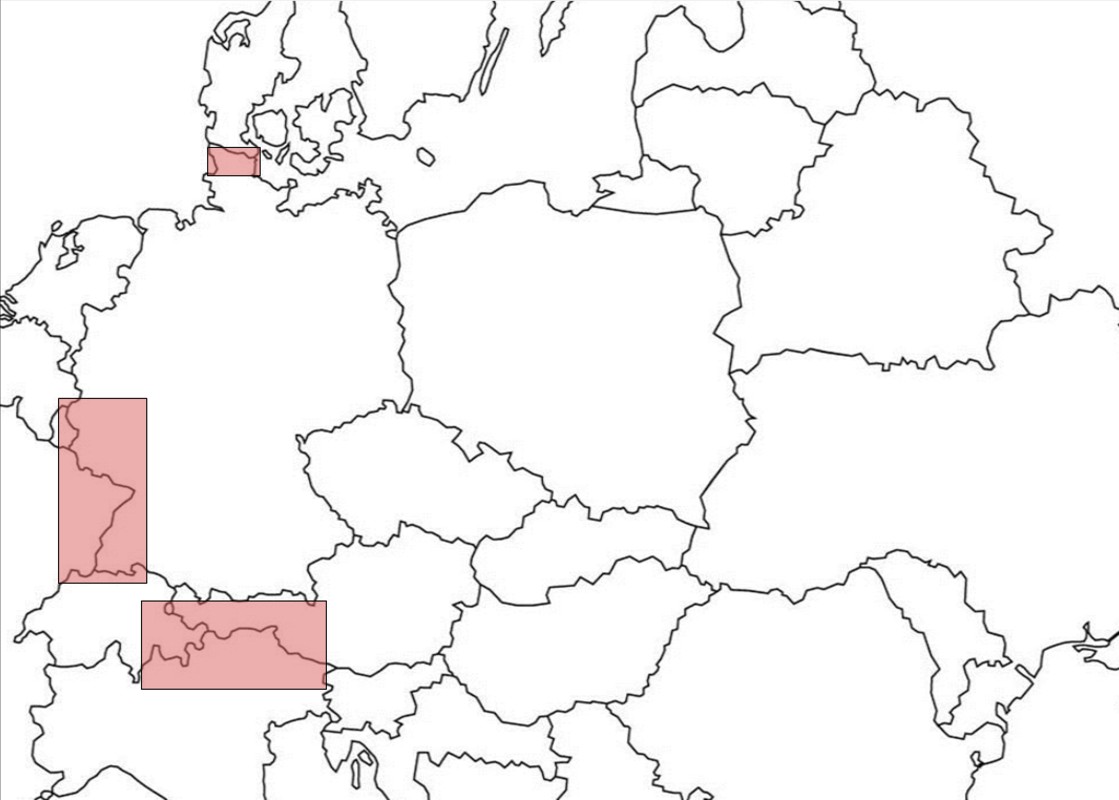 In 2020 Denmark and Germany celebrated the 100th anniversary of the current Danish-German political border, which appeared on the European map as a result of a referendum held within the border region. This event is known as "Genforeningen" ("the reunification") in Danish historiography. Other European regions were also affected by a shift of political borders in the aftermath of World War I. These borders have in common that they divided multilingual territories which are characterized by long-lasting language and dialect contact. At the same time many European cities have increased their multilingual character due to immigration, seeing the emergence of new neighbourhoods, sometimes definable within micro-geographical borders.
With our conference we wish to shed light on the significance of borders for the contact varieties used in multilingual territory, both in a structural and a sociolinguistic perspective. We aim to improve our understanding of possible common and unique features in different contact situations.
Registration
If you would like to take part in the conference, please register before 17 August. Max capacity 50 participants, participation is free, but enrollment is necessary. 
Please note, that the conference will only take place on-site at the University of Copenhagen and will not be streamed online.
Register for the conference here.
Abstracts
Read abstracts (pdf).
Programme
Tuesday, 24.08.2021
12.00 – 13.00: Arrival
13.00: Lunch
Section A - The dynamics of neighbour languages in the Danish-German border zone
14.00 – 14.10: Welcome
14.10 – 14.55: Elin Fredsted (Flensburg): Schleswig – a region of longitudinal language contact
14.55 – 15.40: Malene Monka (Copenhagen): Danish in Nordslesvig 1864-1920 and what it means for Southern Jutlandic today
15.40 – 16.10: Coffee break
16.10 – 16.55: Nils Langer (Flensburg): Creating a Minority – on Redefining Frisianness in the Aftermath of the 1920-Referendu
16.55 – 17.40: Lars Behnke (Copenhagen/Oldenburg): Common mechanisms in border zone morphosyntax. Evidence from Northern Germany and Eastern Poland
Wednesday, 25.08.2021
Section B - Contact between neighbour languages in a European perspective 
9.00 – 9.45: Silvia Dal Negro (Bozen/Bolzano): German and Romance varieties in contact in Northern Italy: Exploring insertional strategies 
9.45 – 10.30: Rahel Beyer (Mannheim): Do the Germanic varieties of East Lorraine (France) still belong to German? Evidence from the form of autochthonous near-standard speech
10.30 - 11.00: Coffee break
11.00 - 11.45: Peter Auer (Freiburg): Dialect divergence at the German-French state border
Section C - Language contact with new neighbours: Effects in urban areas, local borders?
11.45 – 12.30: Anita Berit Hansen (Copenhagen): Pronunciation in Parisian suburbs. Effects of language contact or reallocation of working-class variants?
12.30 - 13.30: Lunch
13.30 - 14.15: Stefanie Jannedy (Berlin): Urban German and its Perception in Berlin
14.15 – 15.00: Lian Malai Madsen (Copenhagen): Linguistic fixity and fluidity – observations from urban youth language research
15.00 - 15.45: Christina Casey / Line Sandst (Aalborg): Place, coloniality, and affect in Copenhagen and New Orleans
15.45: Conference ends