Lockdown Reading: The Experience of Reading During Covid-19 Lockdowns
The research project Lockdown Reading investigates the impact of the Covid-19 lockdowns on the experiences of reading and the uses of literature in a Danish and an English context. The project is concerned with the interrelated questions of gendered reading habits, the novel's role in achieving a work-life balance, and reading as a practice of community formation.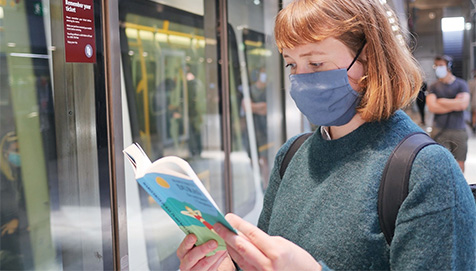 Our research is based on interviews with readers, reading groups and key actors in literary institutions about their experience of reading during lockdown. What happened to readers' practices and preferences as the time available for reading changed and their activities were confined to the private space? Did the increase in online events and digital reading options pave the way for new uses of literature and new reading communities? Did any existing trends or practices within contemporary literary culture intensify in this exceptional situation? Did new opportunities emerge? The collection and analyses of empirical data will be supplemented with readings of literary works, combining the sociological study of reading as event or behaviour with a careful attention to the actual texts in question.
Participate in our Danish survey
How did you read during the lockdown? We are keen to know more about your experience. Contribute to our investigation of reading and uses of literature in a time of crisis. We greatly appreciate your help!
Funding

The project is supported by the Carlsberg Foundation
Lockdown Reading's site at Carlsberg Foundation
The project runs from September 2020 to August 2022.
Contact
PI:
Christina Lupton
Professor
Department of English, Germanic and Romance Studies
University of Copenhagen
The Future of Reading
20-05-2022
Workshop with five roundtables.
External
Ben Davies, Senior Lecturer in English Literature, University of Portsmouth, UK.