Lockdown Reading: The Experience of Reading During Covid-19 Lockdowns
The research project Lockdown Reading investigates the impact of the Covid-19 lockdowns on the experiences of reading and the uses of literature in a Danish and an English context. The project is concerned with the interrelated questions of gendered reading habits, the novel's role in achieving a work-life balance, and reading as a practice of community formation.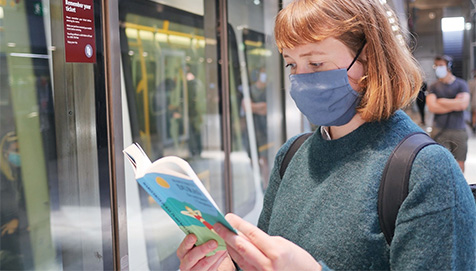 Our research is based on interviews with readers, reading groups and key actors in literary institutions about their experience of reading during lockdown. What happened to readers' practices and preferences as the time available for reading changed and their activities were confined to the private space? Did the increase in online events and digital reading options pave the way for new uses of literature and new reading communities? Did any existing trends or practices within contemporary literary culture intensify in this exceptional situation? Did new opportunities emerge? The collection and analyses of empirical data will be supplemented with readings of literary works, combining the sociological study of reading as event or behavior with a careful attention to the actual texts in question.
Participate in our Danish survey
How did you read during the lockdown? We are keen to know more about your experience. Contribute to our investigation of reading and uses of literature in a time of crisis. We greatly appreciate your help!
STAY HOME, interdisciplinary research project investigating the home during the Covid-19 lockdowns from the perspectives of architecture, family history, technology and theology.
Bine Madsen: "Coronaåret har lært os at finde trøst og håb i bøgerne," Dagbladet Ringsted, Nordvestnyt, Dagbladet Køge, Midtjyllands avis, Dagbladet Roskilde, 20.2.2021.
Pernille Siegumfeldt: "Lock-down Reading: Læselysten er vokset markant under corona," Akademikerbladet, 11.2.2021.
"Camilla picks final instalment of Mantel's Wolf Hall trilogy for book club," Belfast Telegraph 14.1.2021; Jersey Evening Post, Mail Online, TalkTalk For Everyone, This is Money 15.1.2021.
Rhiannon Mills: "Duchess of Cornwall launches Reading Room book club on Instagram," Sky News, 15.1.2021.
"Camilla shares her good reads online," The Times Ireland, 15.1.2021, p. 13.
Valentine Low: "Reading Room project: Duchess of Cornwall reveals choices for online book club," The Times, 15.1.2021.
Our research partner at University of Portsmouth, Ben Davies, was interviewet about Lockdown Reading on BBC Radio Solent, 11.11.2020.
Nanna Damsgaard-Larsen: "Forsker: Sådan læser vi under corona," Herlev Library's webpage and Sorø Library's webpage, 10.11.2020.
Funding

The project is supported by the Carlsberg Foundation
Lockdown Reading's site at Carlsberg Foundation
The project runs from September 2020 to August 2022.
Contact
PI:
Christina Lupton
Professor and Head of Department
Department of English, Germanic and Romance Studies
University of Copenhagen
External
Ben Davies, Senior Lecturer in English Literature, University of Portsmouth, UK.